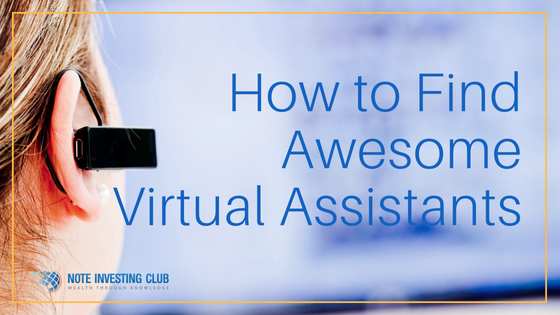 In my last blog post, I highlighted the tops ways to leverage your time using virtual assistants in your note business. Since the topic of leverage can be quite involved, I wanted to give you a little more insight into the inner-workings of finding and hiring an assistant. A behind the scenes look at the process. If you want to get a fantastic VA working for you, and without you, then you have to take the time to find the right virtual assistant, and more importantly train them for their job! The training aspect of working with a virtual assistant will be discussed in another post. In this blog post I will cover how we find and hire our virtual assistants.
Unfortunately, I speak to way too many investors who have had terrible luck hiring Virtual Assistants to complete a few tasks or jobs for their company. When I ask about the hiring and training process they went through to see what might have gone wrong, I'm typically met with a look of confusion and a response of "what do you mean how did I hire and find them? You know I found them on (fill in your terrible VA platform here). I didn't really train them it was just told them to (insert task here)".


Where to Find Your Virtual Assistant:
There are a number of platforms that allow you to hire a VA without the overhead of legal issues and payroll. My platform preference is Upwork because of their size, management capabilities, pay system, and simply the number of qualified virtual assistants you have access to. However, there are number of other platforms that offer similar benefits and qualified virtual assistants such as Elance.com (same owner as Upwork and very comparable in what it offers), VirtualAssitants.com, Freelancer.com, Staff.com, or Guru.comto name a few. With Upwork, I can manage my virtual assistant using a time log that requires them to take snapshots of their work randomly as they are "clocked in". This ensures I am able to track their work simply by logging into Upwork. I also like that they have an internal communication system. It makes it easy when I'm trying to find a new virtual assistant I can chat with perspective VA's in Upwork itself.


Targeting the Right Virtual Assistant for your Business
There are also thousands of qualified virtual assistants from across the globe with various skills, experience, and pay expectations, which means identifying what to look for can feel intimidating. In this next part of the blog post, I share with you what qualities I look for and how you can narrow down your search to find a VA that is right for your business.


Language:
This is an important factor if you are searching for a VA in a different country other than your own. If you're interested in branching out of the US or Canada, you will want to find a VA who is fluent, meaning they can both read and write without grammatical errors and are able to easily interpret data and articulate their ideas to you. If you are having them make calls for you assessing their accent will be important as well, although I feel this isn't important if they are doing solely online work.
Region:
There are virtual assistants in nearly every part of the country. Where you hire your virtual assistant will depend on what you are looking for. Countries that have a lower cost of living will have skilled VA's that request lower pay than you would find in the United States, Canada, or even some parts of Europe. While we have no personal preference of a region, we do take into account their time zone. We like to have a virtual assistant working when we are (during our time zone's business hours), and one that works on an opposite schedule as us. That means work is getting done around the clock and I have help at all times of the day and night.
Price:
You can find a really qualified and experienced virtual assistant in the $4 – $7 price range. That may seem shockingly low to you, but remember, if the VA lives in a region where their cost of living and currency value are lower than what you are used to, they are still getting a quality pay for their area. Research the average cost of living in the region your potential VA lives in, and make sure you are paying them satisfactorily for their time and effort. Yes, you might be able to pay $3 an hour, but increasing their pay by a dollar to pay them $4 an hour you've increased their income significantly, and in result they will do a higher quality job, faster, AND want to stay with you because they're making more than they could anywhere else. If you increase the pay or adjust the pay always make sure it directly reflects the quality of their performance! We like to start off around the $4.50 - $5.50 range and rarely go above $5.50 (unless it was a uniquely specific job that warranted a higher pay).
Skills:
There are virtual assistants who have completed tasks that provide them with excellent skills and experience for note investors and real estate investors, and there are virtual assistants that are brand new to the game. It's 100% a personal preference if you require pre-requisite skills and experience like working with excel, experience pulling data from real estate websites, etc. If you are going to train them on the activity you want done anyways, it can sometimes be cheaper to go with a "newbie" vs. a "veteran", but it comes at the expense of longer training period.
We feel it's important to look for personal qualities of the virtual assistant then assess their prior experience and skills. You want a VA who is a problem solver, takes initiative, is attentive to detail, and manages their time well. If you provide ample training you can hire a great VA with no prior experience and still see them succeed. If you prefer a VA with past experience in your area, look around until you find one that fits there are PLENTY skilled workers out there. Here are some pointers that may help you candidate.
Look at their feedback from past jobs
Look at their example portfolios
If desired, ask them to complete a small "test" related to the job as pre-qualifier to the interview process.

Job Post
When you create a job post on the platform you ultimately choose, make sure you are specific with your job description, skills required, and if there will be training or not.
Here's an example job posting from a prior job opportunity we had. Notice how…
We were specific about what the job was and what we needed them to do.
Expectation of experience (or if you don't need experience).
Timeline for job (how long we would need their work).
Request a sample or "trial run".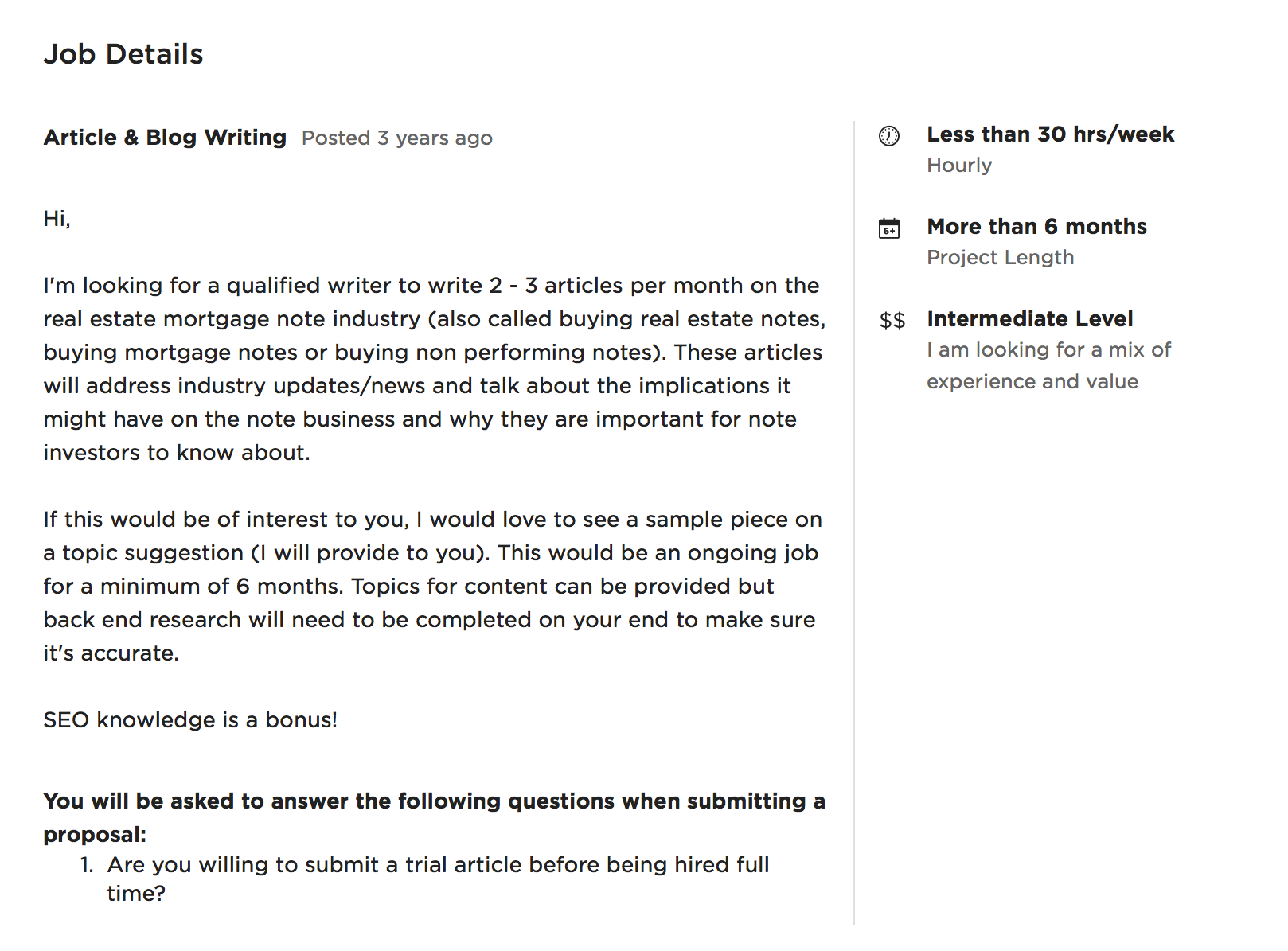 Having an awesome virtual assistant doesn't "magically" happen and it won't look the same for everyone. You have to identify what is important for you and your business, then identify which virtual assistant best qualifies and meets those criteria. What works for me (my preferences) may not be what you and your business need. With that being said, I hope this post has helped you realize how narrowing down what you're looking for is much easier and less intimidating than it may seem and get you one step closer to having your own virtual assistant!