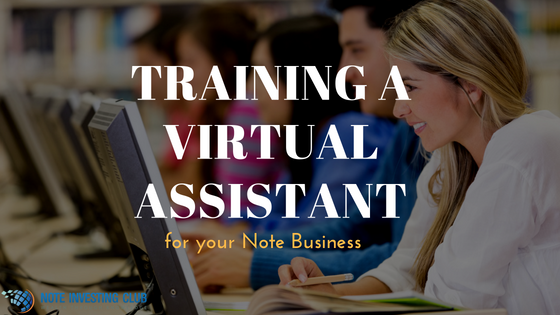 Training your virtual assistants is probably the most important aspect of hiring a Virtual Assistant. You may have found an awesome VA, but if you don't properly explain the task or communicate your expectations to them, it may be difficult for them to complete your task correctly or efficiently. Training a virtual assistant is no easy task and requires a lot of time, planning, and organization. If you're willing to put forth the time and effort to create a system for your virtual assistant you won't regret it! I can honestly say I have more time on my hands than I know what to do with and am able to do more of the things I enjoy and want to do! So, let's get to the good stuff! In this post I will go over the options you have for assigning tasks or training your virtual assistant on how to do the tasks you desire.

Email (written explanation of task)
This is probably the most common form used to "train" a virtual assistant. It can be effective if done properly but has a lot of room for issues down the road. If email is the preferred method of instruction for training your virtual assistant on completing their job or task, then write the instructions out prior to emailing them, read it, re-read it, and make sure to include the following.

Explicit instructions (be as detailed as possible – leave no room for error).
Include all resources they will need such as links, usernames, passwords.
Examples of what you are looking them to provide (this can be by text, an image, or past work example).
What to do when they are complete (where to send it, how to upload it, etc).
Timeline for when you want this completed.
Once you feel confident it explains exactly what you want them to do, send the email. Emailing instructions is our least favorite method for training, but it can work. We don't like having to replicate the training process for every virtual assistant we hire (we've now hired several) and if you just send an email it's like your re-creating the wheel every time you want them to do a task.
This method is best used if you want them to do basic tasks like calling counties, sending an email to someone (give them the templates or explanations on what you want to be said),
Call this phone number xxx-xxx-xxx and please ask for the any delinquent taxes that are outstanding for Parcel ID: XXXXX Address:_______. Once they tell you the amount, ask if there are any certificates or tax deed applications or tax deed sales. Also verify the annual tax rate based on the most current year.
If they ask who you are or why you're calling, tell them our company name (insert your name there), and say "we are investors purchasing this property and need to find out what taxes will be owed."
If there is an amount due ask how to make payment (including mailing address). If it's by mail do they accept business checks or only certified checks? Who is it payable to?"
Do you see how detailed that example email is? I thought through every scenario that could happen on the phone so they can be successful with the task and prepared for any response. If you simply said "call xxx-xxx-xxxx and find out if there are taxes due." They wouldn't have known to get the other information for you or ask the clarifying questions if met with resistance.
As you can see this method can work with the proper instructions. For bigger tasks, we suggest using one of the other training methods.
Video or Screen Sharing
Hands down step by step videos or screen sharing is the best way to train your personal assistant. This method allows them to actually see how to properly complete the task you want them to do! It also allows you to use the same videos for any additional virtual assistants you may hire now or in the future.

I realize recording videos takes time and you may not be a wizard on the computer or tech side of things, so this method isn't for everyone. If you're willing to take the time to create a few videos, I promise you'll see results and it will make the training process a lot easier in the long run. There are several options on platforms to use to record videos or to screen share.

Camstudio and ScreenRecorder are just two (free) options that allow you to record your computer screen to create a video. This method is great because it shows them exactly what you want them to do step by step. You do it once and now it's done for every virtual assistant you hire! If you do this method, keep your videos as brief as possible while still showing them what you want them to do. Speak slowly and clearly as English is a second language to many virtual assistants. If you use any "lingo" of the business – explain what it is so they don't run into confusion along the way.
For screen sharing I suggest using google hangouts (free). This method is just as effective as recording your computer screen on your own, but if you choose this method you'll have to do it with every virtual assistant you hire.
Lastly, if you do record videos for your virtual assistants to reference during the training process, you'll need a place to house them. You can create a website to keep all of the videos and documents on. There are free drag and drop website creators like Wix.com or Weebly.com. You do not need to be tech savvy for this. They truly make it easy to create a website and even have plug and play templates to use. We host our videos on Youtube with the "private" setting. It's free to create an account and all you need is the URL to add to your newly created website to get them live and ready for your virtual assistants to use.
Step by Step Guides or Resources to Download
I like to provide additional documents of frequently asked questions, website links, a step by step guide, or requirements/rules for certain tasks as reference pages for my VA's. This helps them complete their job without one million emails to you! If you do this method be clear with your instructions. Use bulleted lists, numbered lists, and add any pictures that may be helpful for them with examples of where to click or what to look for.
The bonus of this method is after you create it once, you never have to do it again (think emails for every task every time you need it)! We also suggest storing these resources in one location (such as a website or shared google drive folder), so they can reference them as much as they need during their initial training.
Providing Feedback
No matter which method you choose, you must give them feedback on their work. Checking their work is key in the first few weeks. Depending on the tasks, provide them with the opportunity to practice. Remember that it's going to take time for them to figure everything out. It typically takes a few "trial and errors" before they are 100% independent at your tasks. As with any new job, they need time to learn the routines and tasks, practice them, and get feedback. If you provide feedback via email remember the rules above and stick to them! If you prefer to give feedback by screensharing or video you're only increasing the likelihood they better understand their mistake or error and fix it in the future.
Those are some of the most common methods for training a virtual assistant. We understand that not everyone is willing to put forth the effort that is required to really get a smoothly running system with a virtual assistant. That's why we are so happy to share our virtual assistant training program, www.noteinvestingclub.com. We've done the hard work for you and are happy to share our success with you. Maximize your potential, free up your time, and give yourself the freedom to focus on what's important to you.